iPad Stands
Pain Removing Tablet Stand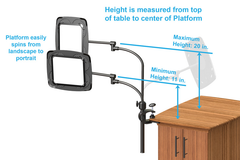 The wonders of daily technology are truly impressive, and have certainly changed the way we communicate. But, even with advances in modern technology there are drawbacks in the health, public safety and educational aspects of technology accessories to be addressed. Use of gadgets like computers, cell phones, tablets, and gaming consoles such as  Playstation, are increasing each day and can effect the human body adversely.
Increasing dependency on iPads, computers and smart phones, has left many people with eye problems, occurring most prominently in those of more advanced age. Other reported health risks include seizures, neck pain, wrist pain, shoulder pain & repetitive back-strain injuries. A good tablet stand can reduce middle and lower back pain, as well as shoulder and arm stiffness.
LEVO has developed a pain management tablet stand for removing chronic posture problems. This tablet stand brings your tablet to a comfortable eye level, freeing your hands and relieving stress on your shoulders, neck and back. LEVO floats your tablet at the perfect height and viewing angle while you sit, recline, or lie on bed. LEVO tablet stands are known as the industry standard, and are regarded as the best tablet stands for removing back pain & reducing frequent and repetitive strain.
So how do I relieve back pain with a tablet stand?
With LEVO stands, you can place your device horizontally, upside-down, or anywhere in-between. The simple and quick mounting platform is compatible with all tablets; iPads, Kindles, Kobos, Nooks, Galaxy and e Readers (with or without a case). Our tablet stand reduces lower back pain, due to the articulating arm that swings easily to any position, and height for hands-free use. It is user friendly, adjustable, easy to operate and good looking, too! Simply, it is a design-specific tablet stand to reduce the aches and pains, such as Tech Neck, caused by frequent tablet, laptop, and cellphone use. LEVO Tablet Stands are used to reduce mid-back pain, as well as pain that can occure in the lower.
In the end, listen to your body. If there is pain or eye strain, it may be your technology. Avoid and eliminate pain and discomfort by picking up a LEVO tablet stand. For more info click here.